11.7:Matter and form in the theory of intellect of Alexander of Aphrodisias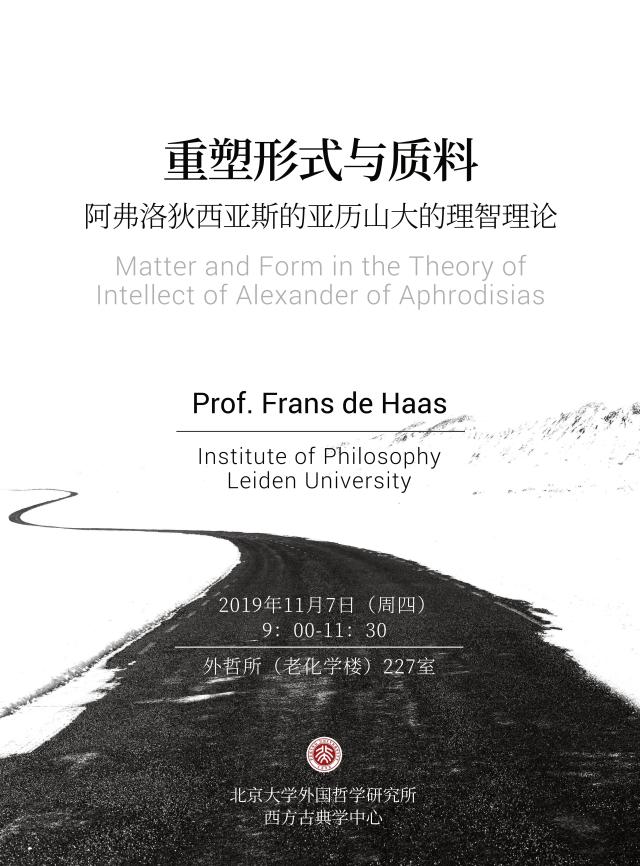 主讲人简历:Prof.dr. Frans A.J. de Haas (1963) studied Classics, and received his PhD in Ancient Philosophy from Leiden University (1995). He spent a year as a visiting research fellow at the Institute of Classical Studies (London) on a scholarship from the Niels Stensen Foundation. He was Research Fellow of the Royal Academy of Arts and Sciences at Utrecht University (1997-2000), and Assistant Professor of Ancient and Medieval Philosophy at Nijmegen University (2000-2002). Since 2003 he is Full Professor of Ancient and Medieval Philosophy at Leiden University; in the years 2004-2005 he was Dean of the Faculty of Philosophy. From September 2011 - 2017 he was Academic Director of the Institute for Philosophy.
讲座简介:Alexander of Aphrodisias (ca 200 CE) has provided us with an update of Aristotle's philosophy to meet the requirements of the philosophical debate in the second century CE. In his De anima he describes the acquisition of universal concepts from sense perception as a long process that ends in the acquisition of a form that actualizes the potentiality of intellect. This story implies a number of interesting innovations in Aristotelian psychology that have influenced later philosophy.